Nordic Frogday 2008

At 10am oct 26 it was time for another issue of the the Nordic Frogday. It was held at the Agricultural and Veterinairian University in Copenhagen, this year a sunday instead of the regulary saturday. This nice event was arranged by Dansk Amfibiecenter with Søren Werther in lead. Behind it all I guess where NHF, Nordisk Herpetologisk Førening.
All the interested people showed up in Fredriksberg in the center of Copenhagen around 10am for another issue of the Nordic Frogday. I drove my car from Sweden with the car full of interested people and high expectations for the day since everyone knew it had been great during all the other Frogdays that had been in Copenhagen. Normally this years Nordig Frogday should had been aranged by the Swedish Dendrobatid Society (SDS) but due to less interests in SDS during the lasts couple of years plus the strange and changing rules of expos and the demands (and costs) for a veterinarian just for checking up the Frogday was it decided that the dannish Frøgruppen (Frog Group) should hold the event this year also if they where interested in it.
When we arrived we got registered, had our name-tags and entered the side entrence to the university. Lot's of people where already there and it took a wile to say hi to everyone since I've been into this hobby for a while. It didn't take long until I met Thomas Ostrowski from Germany who I had permission to use photos from when I started up this website. This was some years before he started up the now well known site www.dendrobase.de . Some of the photos is still here, especially the ones at O. pumilio from Bocas del Toro. We talked for a while about Panama trips and we compared some experience from some places in Panama we both had experience from.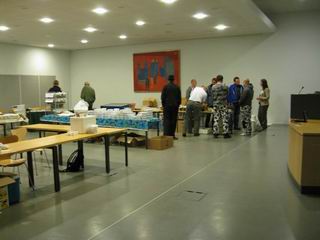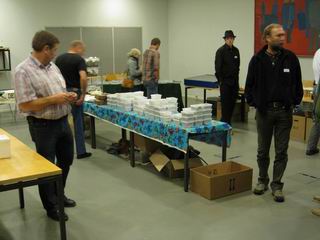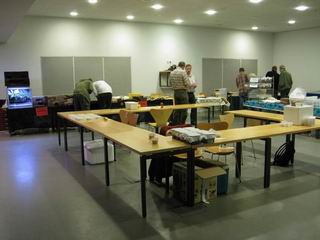 There where some sales tables up, but not a big amount of animals or equipment for sale. www.Dendrobates.dk where selling plants and also had some animals at their table. I think it was mostly tinctorius and azureiventri. Then there was Søren Werther selling some equipment like Xaxim, misting systems, vitamins and his usual equipment. www.Springhalen.dk had lots of diffrent insects for sale including some, at least for me, new insects. Grodor och Foder had some frogs for sale, not sure of what they had. There was also another dannish company, cant remember their name, having alot of equipment for sale at a couple of tables. Except from these there was a couple of private people having animals, insects and plants for sale.

Paint a frog - For the kids? Or for the frognuts?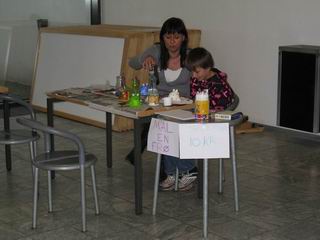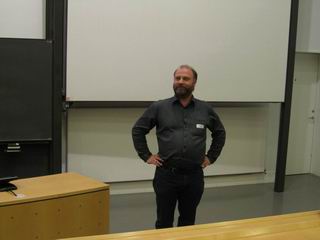 Dendrobates.dk sells plants and also some frogs Søren who arranged this nice day

The first hearing was held by Jos Kielgast and was about the interesting subject Batrachochytridum dendrobatidis (DB). Jos Kielgast works at the University of Copenhagen and has alot of experience of this feared and underestemated desease that has been spread allover the world. Even if it has been known for scientists for decades it's still a mystery in many parts. Stopping it in the wild is far away, but at least there is a few methods for taking care of it at animals in captive. When you talk about BD it's always necesary to mention animals like Atelopus, dendrobatids, diffrent groups of treefrogs, salamanders. The facts that huge parts of Europe is infected including Denmark and the only reason it hasn't been found in the other countries is that no one looked for DB here. In central spain around Madrid there is a huge problem with DB where frogs has died in the amounts we can see in Central- and South America, where ALL frogs are extinct within an extremely short time. It was a very interesting and very scary information.
He also showed us facts and results from test for DB in Africa. The reason is that they think Africa is the country where BD comes from, but they know there is frogs in Africa. So the did tests and could see that some species especially in Kenya was extremely infected with the fungus. it was very high amounts. Among the species that had huge amounts where Hyperolius species, which we often can see at our expos in Europe. Not unrare as wild catched animals. It was a very good hearing, held in dannish which was a bit annoying for some of the people who dosn't understand dannish, not that I care since I understand dannish pefectly well myself.
After Jos Kielgasts hearing it was time for lunch that was included in the price for the Frogday. It was the same kind of tasty and well made sandwiches (smørrebrø) as last year where you can pick what you want out of 6-8 diffrent kinds of sanwiches. I think this is a very appreciated lunch, never heard any complains even from the fastidious Swedes :)
Then it was time for Thomas Ostrowski to talk about Dendrobates auratus morphs in english. Some of the photos was taken in Costa Rica but most of them where from diffrent spots in Panama where D. auratus seems to be very variable. He had photos and maps of all spots and it was very interesting to see it all. I liked this especially since I recognized some of the spots from my own trips. It was also interesting to see some diffrent spots he had found the same morphs as I had seen in the wild but it was looking a little diffrent in habitat. This was a very well planned and informative hearing. It's also good that he pointed out some missunderstandings that excist in the hobby about the diffrent morphs and about auratus.
After a short coffebreak it was time for Flemming Andersen to talk about Pipa toads. He made a informative hearing about them and the most interesting was the species that where hatching tadpoles out from their back, but there was several species described by him and also lots of photos of captive Pipa toads.
Then it was Thomas turn again and now he where showing photos from his Peru trip that he did together with his 2 friends. He held the hearing like a travel stroy and showed photos from the trip he was doing earlier this year. It was very interesting and he showed photos of several species of poison dart frogs, for eg. Lamasi, imitator, reticulatus, amazonicus and much more.
Flemming Andersen - Pipinae
Flemming Andersen holding a lecture about keeping and breeding Pipinae in captive
Click on a thumbnail to view a larger image. Click on the close button to close it.
Thomas Ostrowski - D. auratus
A guide through many of the D. auratus morphs in Costa Rica and Panama.
Click on a thumbnail to view a larger image. Click on the close button to close it.
Thomas Ostrowski - Peru
Thomas Ostrowski tells about his trip in Peru.
Click on a thumbnail to view a larger image. Click on the close button to close it.
Photos and Article: Dennis Nilsson 2008