Our search for the red Granuliferus

We had traveled with car from Monteverde and Santa Elena against Quepos via some nice spots and walks nearby Carara and Río Tárcoles where we saw the
American crocodile
and searched for
auratus
in the nearby forest and around a nearby river. We never found any auratus at this park since it was to late and dry, but we did see a habitat where we probably could find auratus if we would go there early in the morning. We actually where forced to get a guide to let us into the park since we where there after closing time and the park closed at 16.00.
When we left Carara and started to drive to Quepos it was already dark and we didn't actually know how far it was to Quepos, but the roads where pretty good so it was actually not a problem, but we where tired and it had also been quite a chock with the temperature differences between the highlands around Monteverde and the heat around Carara, but it wasn't exactly hard to get used to this nice heat in Quepos. It actually felt like we where on vacation now.
Our search
We did get up early in the morning to get away out in the rainforest before it was to warm. As most froggers who has been out searching for them in the wild know it's not easy to find the frogs when it's to warm outside. I was almost amazed that there even could live frogs here since it was so dry, not at all like it is in the northern and eastern parts of Costa Rica where the humidity is a lot higher in the dry season.
Our main problem was that we didn't knew where to start searching but we started by driving to the area where it should occur. To get there we had to drive south from Quepos and the road there was a gravel road through a palm tree plantation for the palm oil industry in the area. Thinking about how much they had destroyed of the rainforest in this area for being able to set up these plantations where making you feel bad about it. It was huge areas and you could drive for 10-20 km just to get out of the plantation, sometimes even longer.
Since time was running away we stopped by a place where they where arranging tours, but they didn't seemed to be very serious since they said that we should follow their night tour to be able to see the granular frog
O. granuliferus
(that they even had on photos at postcards for sale in the small shop there). Not very big chance for us to find a day active frog on their night tours so we decided to try drive against the nearby mountains in that area to try to find something that looks like their habitat. We did drive for a while without finding any good roads leading up to the areas we wanted to go into and time was ticking, it was starting to get really warm outside.
On the right track
After a while we saw a road-sign on a road leading to the larger road against Palmar Norte and it said it was 65km. One of my dutch friends had been there a couple of years earlier and they had found
granuliferus
back then. We decided to drive to that spot since it's easier to look for something in an area where you know it's possible to find it there.
The drive took about 1 hour and when we finally found the old road they had been driving at it showed us that it wasn't really looking the same because they had blocked the road with fences and it was impossible to drive through with car.
We decided to go back a little and try to get closer to the river we where looking for. At one place where the road had split earlier we decided to try the other way and it stopped outside a house. We followed a woman who started to walk on a path next to the house and it looked like she was going with her 2 kids to the river to wash cloths due to all clothing she was carrying with her in big bags. We had not been walking for long on that path before we could hear the river we where searching for. The path ended at a pump station and probably some kind of filtering station that was cleaning the water for the people nearby and maybe the whole Palmar Norte.
Several poison dartfrog species
We walked into the river and followed it upstream. The good thing with being here in Dec – Apr is that this is the dry season and it's possible to follow the rivers like this. It's a quite fast way to get into the forests. It's also a lot bigger chance to see frogs like
O. granuliferus
since it is moving into areas where they can find water while it's to dry for them to be to far into the forests. Rivers is keeping humidity up, even when it's almost totally dried out it's still possible to find areas where it's wet below leaves close to rocks and similar.
When we where there, walking along the river we also found some other species of poison dartfrogs. The first frogs we found where some Silverstoneia flotator (Colostethus flotator) but at that moment I did find out that my macro lens had a totally damaged UV filter and that it was impossible to remove it without destroying the lens. I had to crack the UV filter and pick out all the pieces of glass just to be able to use the lens again. It was luck that one of my dutch friends had a tong with him so it was possible to make out in the field, but it also resulted in no picture out of this small brown but good looking frog. I did get a picture of this frog from one of my friend though.
The next frog we where going to find was D. auratus. We did find the first one just a couple of meters from the place we found the flotator. The first thing that was hitting me was:
Wow, this frogs are huge in nature and so much nicer than any auratus I've ever seen in vivarium.
It's still a feeling I can feel when I think about it. The auratus seems to like to hide in tree-holes near ground during the hot part of the day. They where also jumping around on rocks around and in the middle of the river like they where crazy, not afraid at all for getting into the water and go down with the stream or possible drown.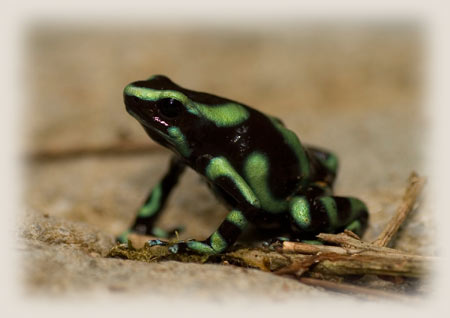 Red granuliferus
When we arrived to the spot that one of my dutch friends had seen
granuliferus
at a couple of years earlier we started to search the forest and bushes around the river carefully but we where a little scared to surprise any venomous snakes like eg. "fer-de-lance" (Bothrops asper). We where five people searching the area for more than one hour and we didn't find anything. I was giving up hope and was sitting in the shadows close to the river to rest, totally exhausted by the heat while only 2 of my dutch friends was continuing search. I heard a shouting: - I've found a
granuliferus
, and everyone rushed to him to help him to catch it before it disappeared again in below the leaves, trying to both hide and to find some moist place to stay at. We finally found about 2-3 more
granuliferus
here and photographed them at that place and my first reaction was that this frog was a lot smaller than I had expected. The red
granuliferus
I've seen before has always been larger. When I asked my dutch friend, who had been at this spot before and found red
granuliferus
at other places, about it he confirmed that they are smaller at this place.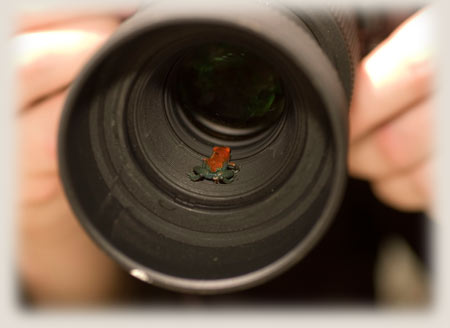 After a successful frog search and lots of photos taken we all where very happy. We walked back to the car and drove to a small place in Palmar Norte where we stopped for our regular cup of wonderful Costa Rica coffee and a chicken sandwich. Then we started the drive back to Quepos and the pool that where waiting there for us by the hotel.
Photos and article: Copyright © Dennis Nilsson