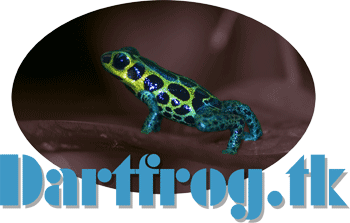 Welcome to Dartfrog.tk
The new Oophaga Lehmanni DVD/BD!
I have the new Oophaga Lehmanni DVD/BlueRay with Swedish subtitles for sale. A limited number in stock.
Have a look in
Frogs for Sale
for prices and more information.
Home and inspired!
A couple of weeks ago I came home from a new amazing photo travel in Colombia. Thank you to my friends who helped me out to make this travel possible.
Hopefully I will be better at updating the website since this is my ambition. Many photos from the wild will be added, not only of the already listed species but also for new species, and I hope people understand this and stop sending requests for buying these animals. First of all - I don't have them. Second -Most of them are very rare in the wild and balancing on the edge between survival or becoming extinct. Hopefully there will be started up some projects for conservation of the unique amphibian species in Colombia, like the projects in Panama.

So please! All animals that is possible to buy from me is listed in the Frogs for Sale list. If the animal you are after isn't in the list, then it is no use to ask.
I am listing the animals here just for spreading the information about the different species.

The website is 10 years old!
I did just notice that the website has been up running during 10 years now. The first years the website was nothing fancy at all and it took me about a year before I bought the domain DartFrog.tk. Every page was all manually made html pages with a buggy Java menu on top.
In 2005 I updated to CMS made simple and things became a lot simpler to update, except from when some modules dosn't work. I also know that during some years there has only been minor updates due to everything except frogs and my webpages needs higher priority, but it has been up and down.
But overall it has been 10 years when I learned to know people allover the world: - At fairs Expos and frogdays allover Europe. I have traveled to many of the countries where you find these frogs and at some of the places I have even been visiting two times, which has been a very good experience too, since I can see how much can be changed in the rainforest during just one year. I've learned to know some of my very best friends through this interest and I am very greatful for that.
I have also breeded alot of diffrent species during these years - with focus on the Ranitomeya species. I have had 100's of mails from people requesting Histrionica and Lehmanni and I still get those mails even though I never had these species except from on photos. It's strange that people just want what is impossible to breed when we have so many lovley and tricky other species that is not on the range to get extinct in the wild.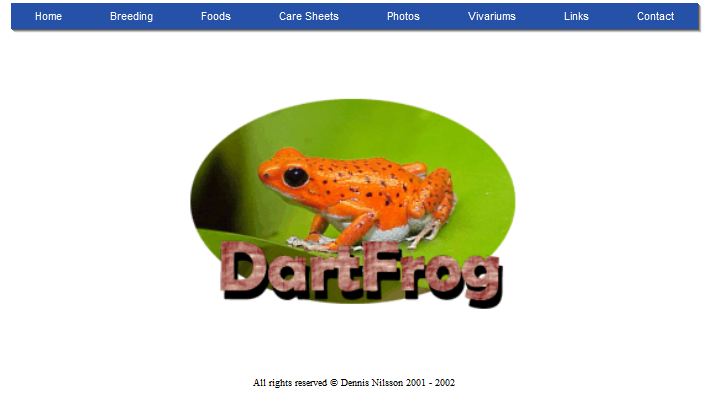 Thank you all for these years - I hope you had some use of the information I've been sharing during these years and that you will continue to visit DartFrog.tk
I had never believed that this website would help me to experience this much during just 10 years.
I also want to thank everyone who has made it possible for me to run this website, without your help it had not been possible.
Here is a link for viewing how my website looked like in 2002 (Same look as before I got the domain DartFrog.tk).
http://web.archive.org/web/20021016023259/http://www.dartfrog.tk/

Big but invisible updates
We have put alot of work in some "invisible work" at the website. Everything has been moved to a new webserver with some more power to speed up a bit more, but also since I had the old webserver for 3 years and that it was time to reinstall and update it all.
The plans for the close future is to update the website to a new version of the CMS system, that hopefully will make updates easier. I'm also open for purposals from all visitors what should be added here so please give some feedback if there is something you would like to be changed or added on DartFrog.tk



Photos from your "special" vivarium - Your photos requested!
I'm interested in putting photos from your very special vivarium online here, but I need your help. It might be that you have made some special solutions or just a very betiful and natural vivarium, please let me know.
There is much people around that has been showing a very big interest in how you can make artificial rocks, branches and waterfalls and so on, so please, send me a mail and I'll answer you with information about how to upload the files and a possible description of the content in the photos.




Articles and travel logs
I have started add some more to the 'articles' area here at the website. There is articles added about O. granuliferus, O. granuliferus "green", O. pumilio "blue jeans" and O. pumilio "black jeans" and about the Nordic Frog day in Denmark. There is still photos missing in the frog articles, but they will be added as soon as i get some time to go through all photos. Thats the backside of having thousands of nice photos to select among.




Dennis Nilsson - webmaster and site owner of DartFrog.tk